Most people know what The Lament Configuration is though most likely know it as "the Hellraiser Box in the films".
It's a legendary box which, in the films, was supposed to have been commissioned from a toymaker, Lemarchand, by the Duc de l'Isle who was obsessed with all things dark artsy,
The Hellraiser box itself is a cube with decorative faces containing designs and (perhaps) runes and sigils and presents as a puzzle box. The problem is that when you 'solve' the box it transforms and opens a gateway to a hellish dimension inhabited by the Cenobites who like nothing better than turning you into a Cenobite (usually in a very messy way) or disassembling you and putting you back together again just to rinse and repeat. All without the aid of anaesthetic, naturally.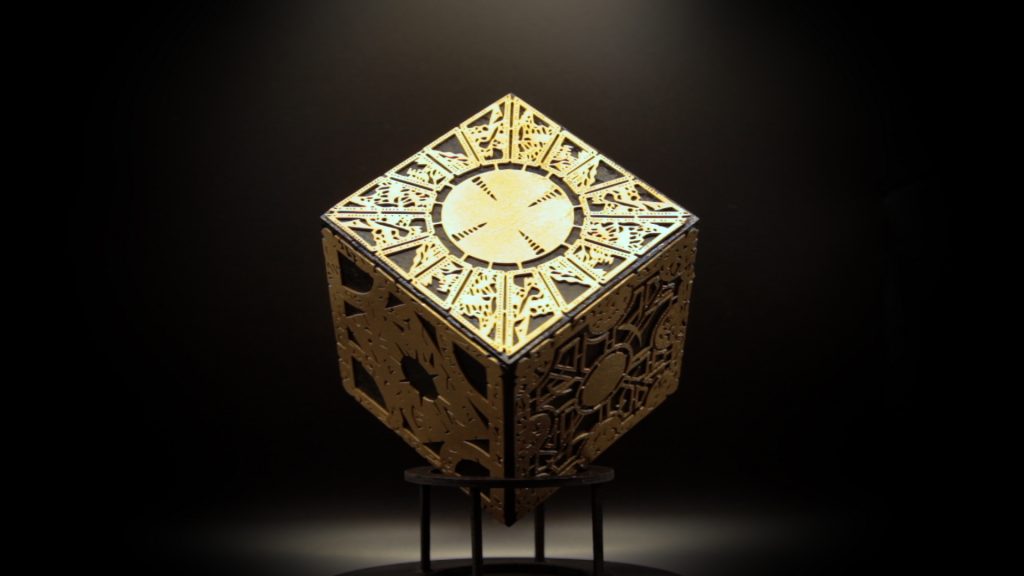 The approach to construct it was straightforward enough – make 6 decorative faces and attach them to the sides of a cube. So to the faces first…
I found some high resolution images of the box faces (from where I don't remember) and loaded them into Illustrator to convert them into vectors. These I then loaded into Lightburn and scaled them each to 95mm square.
These were cut out of 0.8mm laserply, sprayed white then, when dry, sprayed gold.
The box was easily created using the extremely useful MakerCase.com to a 100mm cube allowing a slight border between the faces and the cube edges as this was how the cube appeared in one of the film stills I checked though doubtless there's other variants in the other films, dozens of box props were made!
Then it was a case of spraying the box black and attaching the faces with PVA after it had dried.
Job done! The Lightburn files I used and the making-of video are below.