A laser cut String Quartet
Working on unusual laser cutting projects is a joy as you get to exercise mental muscles for their design which don't often get used. We were excited when local Creative Artist, Jana Eastwood, asked if we could laser cut cardboard which, of course, we can. We weren't quite expecting the quantity of cardboard to laser cut though. Jana had been asked by The National Trust's Charlecote Park to create a string quartet by recycling material they had left over from activity within the house.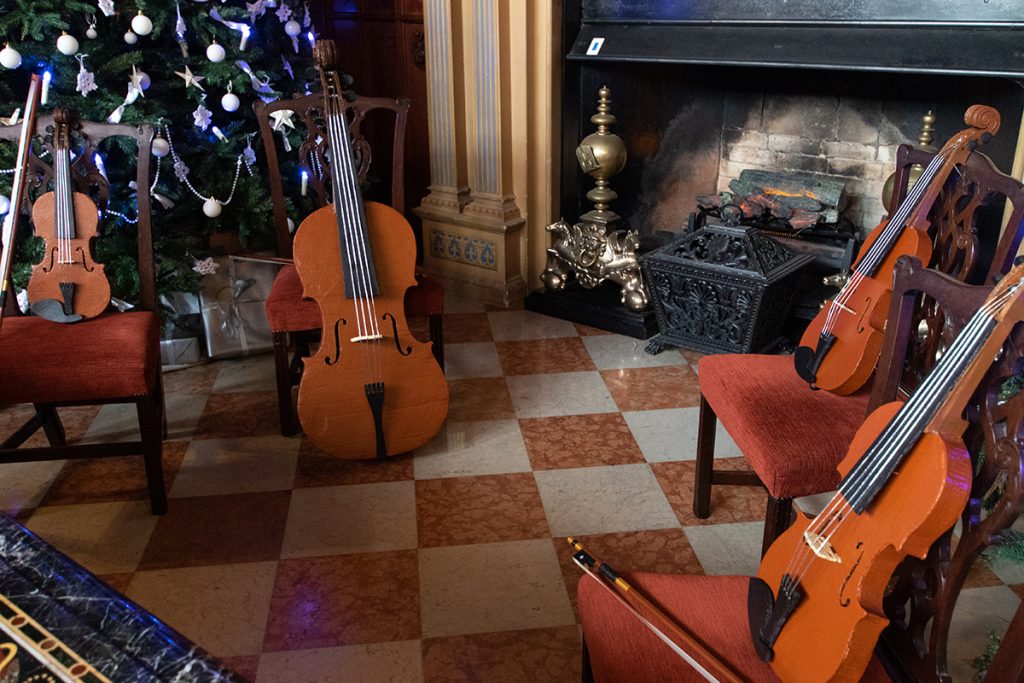 Thankfully information on the dimensions of the cello, viola and violin are readily available on the Internet from luthiers and other sources. Of course there are plenty of images to refer to also. We set about making the bodies first, creating four fronts and four backs – cello, 2 violas & violin. Not a standard configuration. The musical example picked was Franz Anton Hoffmeister's Quartet #5 in Eb Major which was composed this way. Once cut, Jana could begin assembling the bodies using card tubing cut to length as internal supports between the two sides.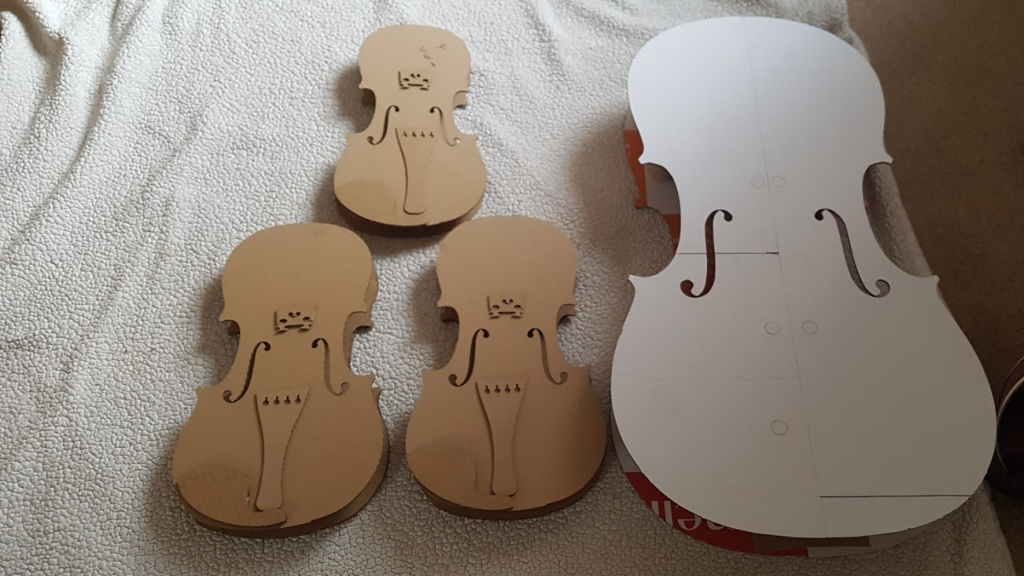 Next the necks were cut as a box, cutting the long side profile of the neck, including the scroll and pegbox holes, and a pair of connecting panels for the top and bottom. Jana added the clever step of some internal card bracing for the necks too.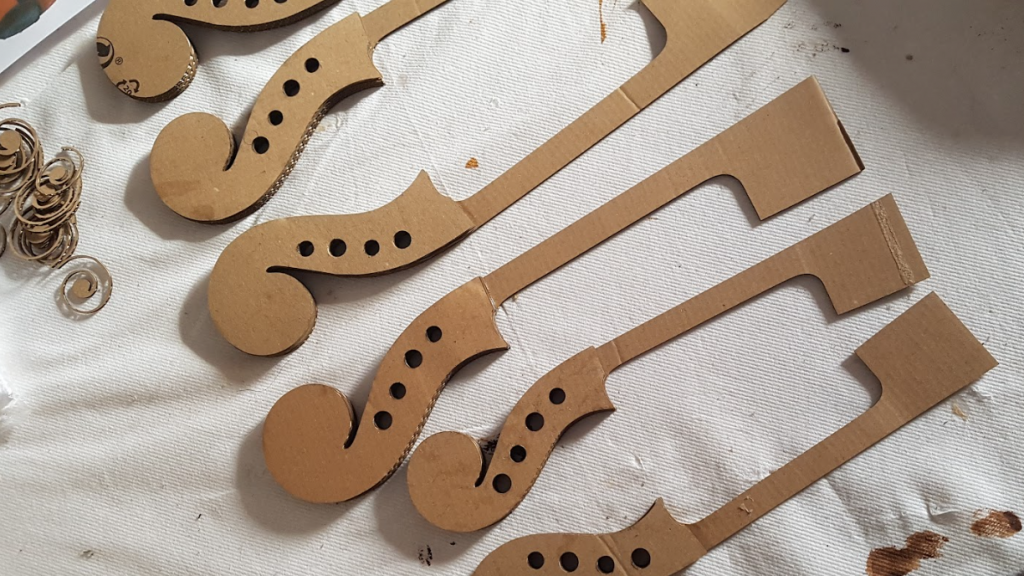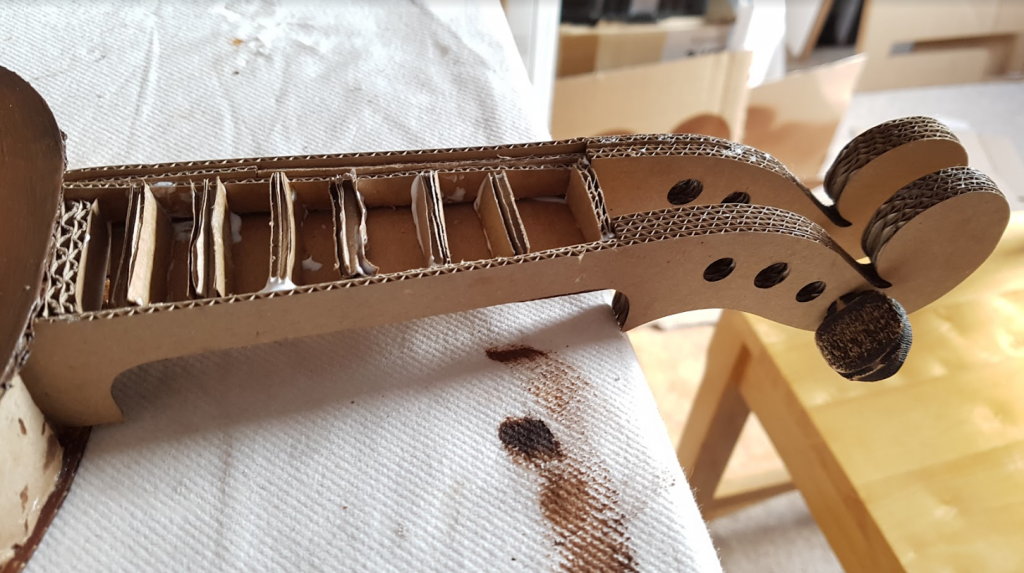 We laser cut the scroll ends as varying size pieces to emulate the relief of a real scroll and to create a solid end for strength when glued. Sixteen tuning pegs were created by using a 3D engraving technique on 9mm MDF for realism (see Laser engraving 3D features). These couldn't be created completely from cardboard and still look great.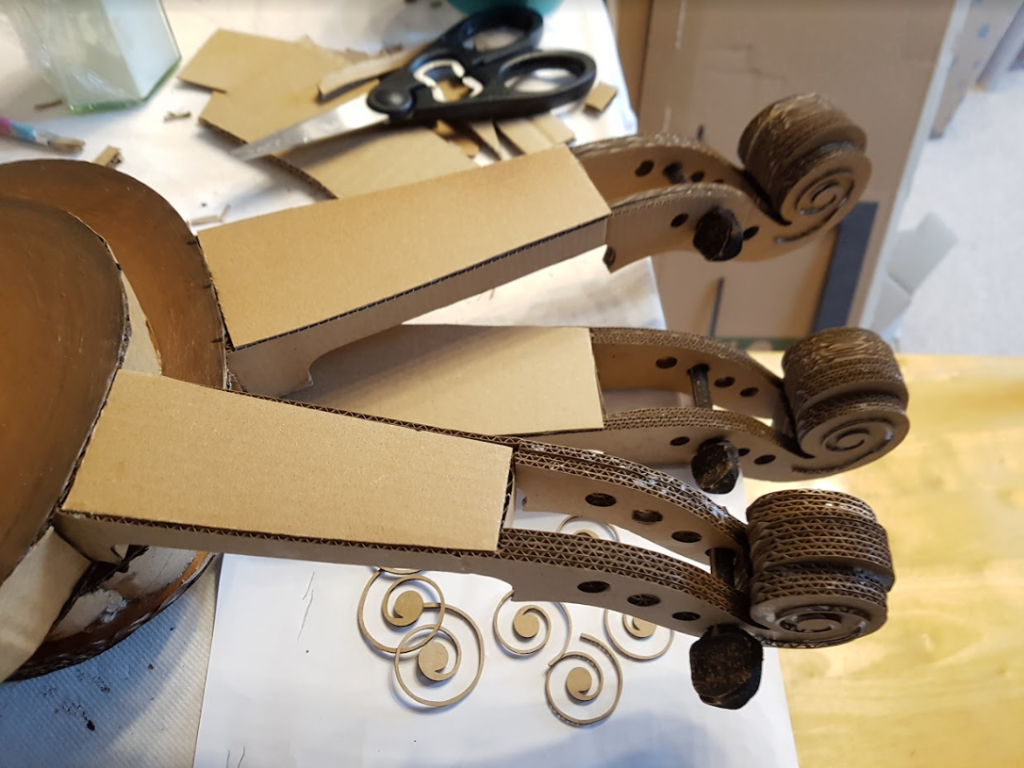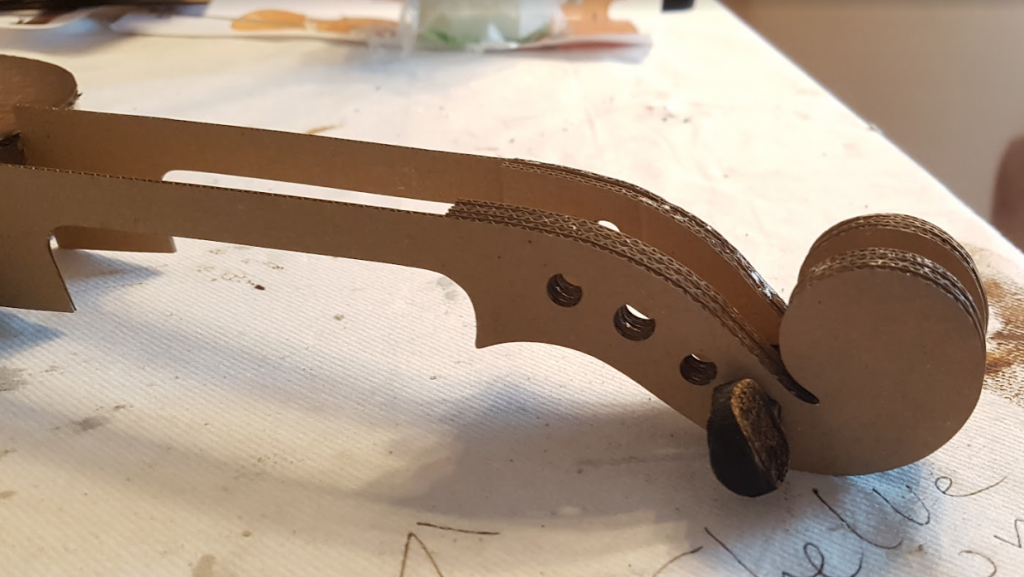 Bridges, tailpieces and chinrests were also cut from cardboard and painted black as were the fingerboards for each instrument.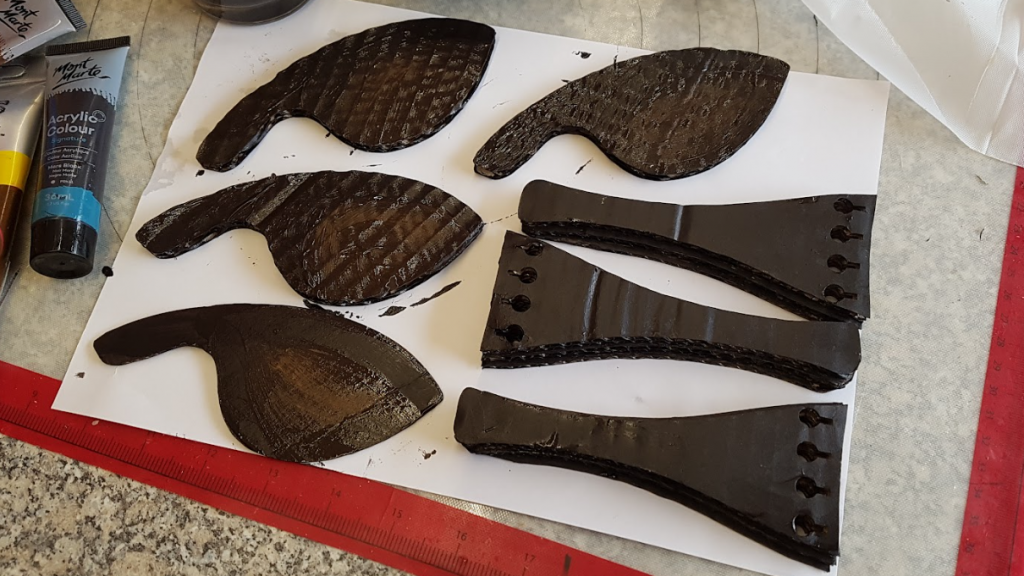 The four bows were being made from 12mm dowel and we needed to cut frogs and tips that could be securely glued to it. This led us to create each tip and frog from eight layers of 1.5mm cardboard (conveniently a good size!). With 4 layers at slightly different heights when the layers are stacked together they follow the circular profile of the dowel. This technique was used for the bow tip, also.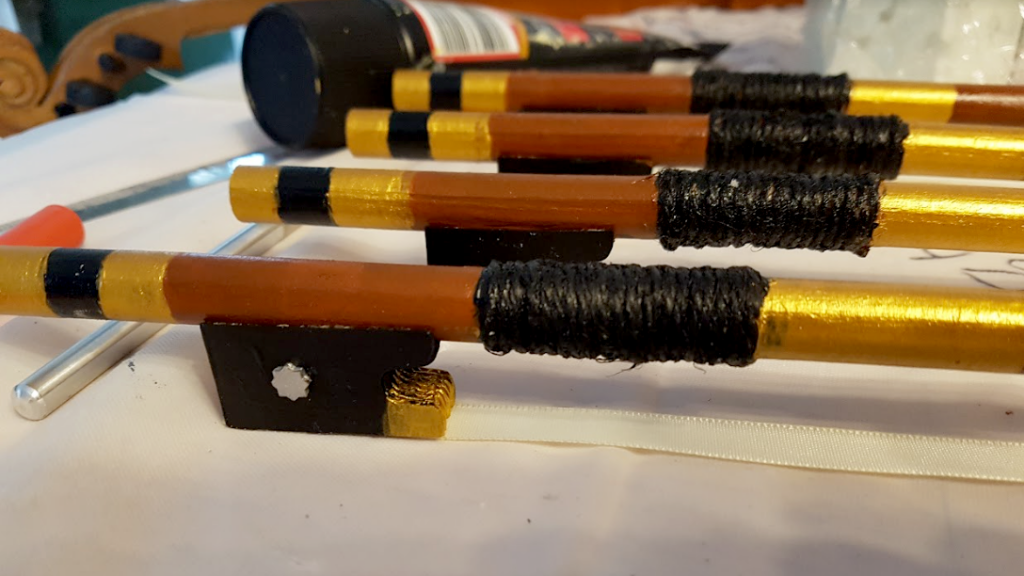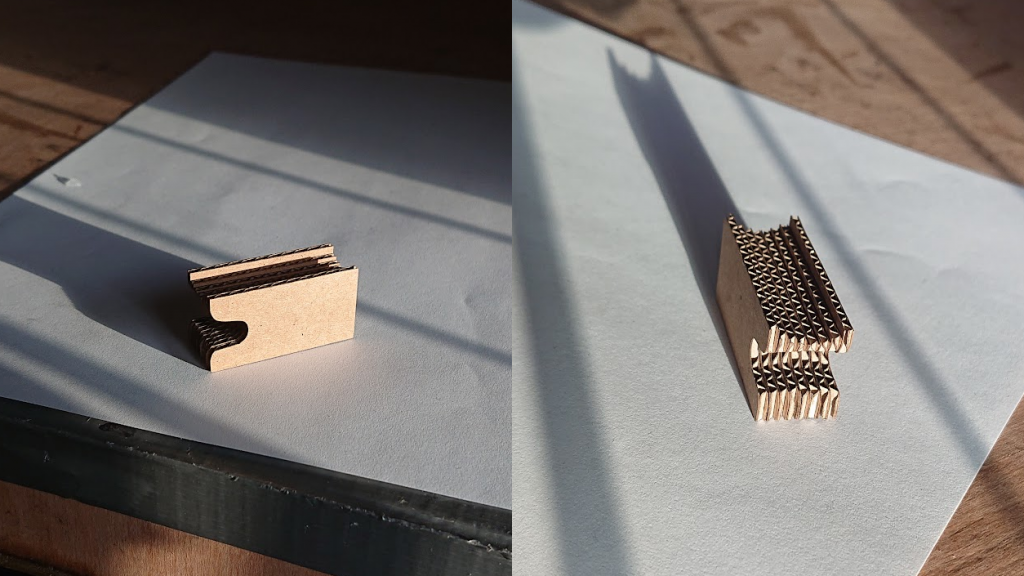 Once Jana had painted, assembled and strung her string quartet it was delivered to Charlecote for their annual Christmas Display. This year it's themed around recycling and is open from today (November 30th). We think It looks fantastic, well done Jana, what a superb concept!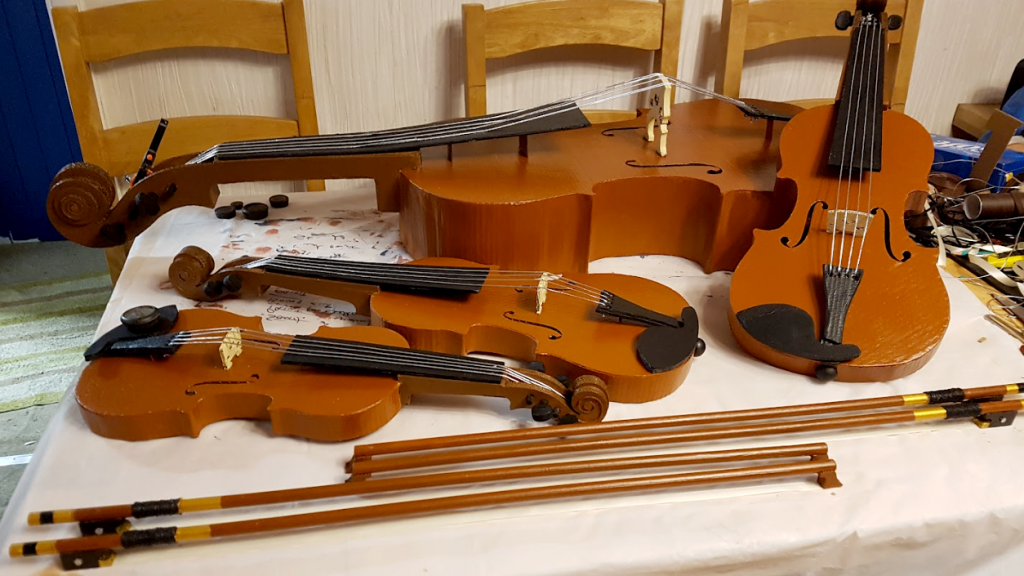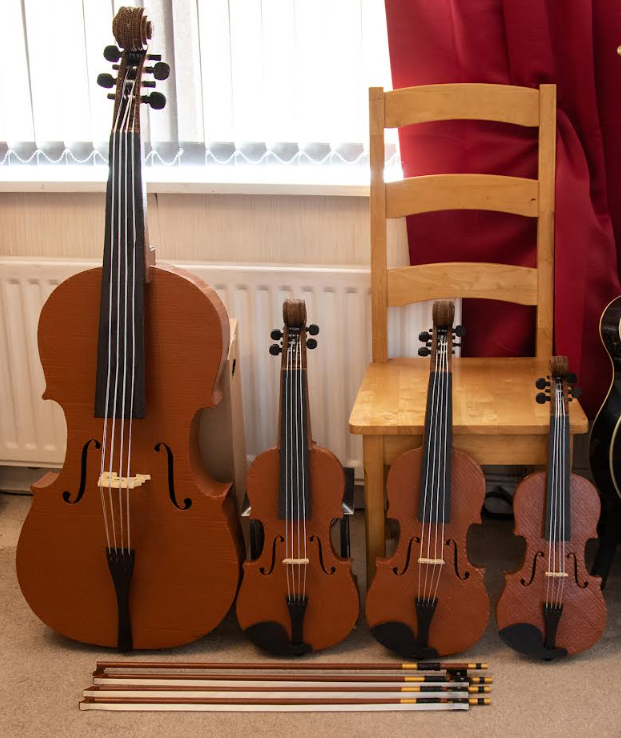 All of our time on this project was donated to Jana, the National Trust being a charity. If you have any projects you think we can help with then get in touch and let's have a chat about it!
A big thank you to Jana for use of her photos!